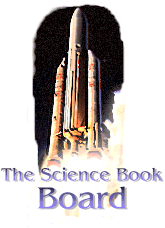 -Title: Spaceflight Mechanics 2001 - Part I.
-Authors: Louis A. D'Amario, Lester L. Sackett, Daniel J. Scheeres, Bobby G. Williams (Edits.).
-Publisher: Univelt, Inc.
-Pages: 22 + 1102
-Illustrations: B/W graphics and photos.
-Language: English.
-Publication Date: 2001.
-Collection: Advances in the Astronautical Sciences, Volume 108 Part I.
-ISBN: 0877034877.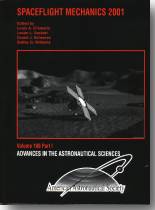 You can purchase this book clicking here.
If you wish to purchase further titles already reviewed here, please return each time to SBB. Using the direct links available at our site is easier than searching by title, author, or ISBN number.

EDITORIAL INFORMATION
This volume in two parts presents the proceedings of the 11th Annual AAS/AIAA Spaceflight Mechanics Meeting held in Santa Barbara, California, February 11-15, 2001.
(Extracted from the Praface).

GENERAL TABLE OF CONTENTS
-Foreword.

-Preface.

-Contents.

-Part I:

-Mars Missions 1.

-Mars Global Surveyor Mapping Orbit Determination.
-Optimal Orbits for Sparse Constellations of Mars Navigation Satellites.
-Mars Surface Asset Positioning Using In-Situ Radio Tracking.
-Orbit Determination for Nozomi.
-An Energy Controller Aerocapture Guidance Algorithm for the Mars Sample Return Orbiter.
-Orbit Selection of a Complementary Data Relay Mission for the CNES Aerocapture Demonstrator.

-Attitude Control.

-A Local Optimization Technique for Attitude Motion Tracking Using Control Movement Gyroscopes.
-Minimizing the Effects of Transverse Torques During Thrusting for Spin Stabilized Spacecraft.
-Optimal Design of Generalized Three-Dimensional Active Coning Attenuator for a Spinning Spacecraft Under Thrust.
-Constrained Optimization of Passive Coning Attenuators for Spinning Spacecraft Under Thrust.
-Simultaneous Precession Maneuver and Active Nutation Control.
-Large Angle Attitude State Tracking Control Using GPS Output Feedback.

-Orbital Debris.

-Covariance Generation for Space Objects Using Public Data.
-A New Analytical Method for the Determination of the Average Density of a Debris Cloud.
-Analysis of the Collision Risk Associated With GPS Disposal Orbit Instability.
-A Method for Calculating Collision Probability Between a Satellite and a Space Tether.
-Estimation and Prediction of Orbital Debris Reentry Trajectories.
-Energetic Cost and Viability of the Proposed Space Debris Mitigation Measures.
-Analytical Expressions for Computing Spacecraft Collision Probabilities.

-Mars Missions 2

-Lidar-Based Hazard Avoidance for Safe Landing on Mars.
-Optimal Use of Electric Propulsion for a Phobos Sample Return Mission.
-Aim Point Biasing Methods in Case of Planetary Protection Requirement.

-Attitude Dynamics.

-Man, Like These Attitudes Are Totally Random!: I. Quaternions.
-Man, Like These Attitudes Are Totally Random!: II. Other Representations.
-Energy Transfer Between Rotation and Revolution Via the Gravity Gradient.
-Spin Release Mechanism for Small Space Probe Separation.
-Dynamics Analysis of ADEOS With Flexible Solar Array Paddle.

-Atmospheric Flight and Modelling.

-Atmospheric Density Variation at 1500-4000 Km Height Determined From Long Term Orbit Perturbation Analysis.

-Missions to Small Bodies I.

-Autonomous Descent and Touch-Down Via Optical Sensors.
-MUSES-C Touch-Down Simulation on the Ground.
-Robotic Lander Minerva, Its Mobility and Surface Exploration.
-A test of Autonomous Navigation Using Near Laser Rangefinder Data.
-Design and Analysis of Landing and Low-Altitude Asteroid Flyovers.

-Attitude Control and Determination I.

-A Fail-Safe Controller for an Underactuated Rigid Spacecraft.
-Feedback Control of Rigid Body Attitude With Inclinometer and Low-Cost Gyro Measurements.
-Equilibria of a Satellite Subjected to a Constant Torque: Analysis of Stability.
-Kalman Filtering Using the Quaternion Extracted From Vector Measurements.
-Rejection of Multiple Periodic Disturbances Using MELMS With Disturbance Identification.
-Magnetic Attitude Determination and Control of Inertial Pointing Small Momentum Bias Spacecraft.
-Segmented Modelling of the geomagnetic Field for Use as High Accuracy Reference Vector.

-Navigation.

-Simulation of High Accuracy Inter-Satellite Ranging Measurements.
-The Orbit and Maneuver Estimation of Interplanetary Mission Based on Delta VLBI and Radiometric Measurements.
-Accurate Navigation for Lunar Lander/Orbiter Based on Crater Identification.
-Recursive Mode Star Identification Algorithms.
-A Factorization and Least-Squares Method for Multi-Pass Sensor Alignment Calibration.
-Spacecraft Rendezvous Using GPS Relative Navigation.

-Missions to Small Bodies II.

-On the Multiple Sample and Return Opportunities From Near Earth Asteroids.
-Approaching Small Bodies.
-On the Dynamical Behaviours of a Spacecraft Orbiting Elongated Celestial Bodies.
-Maneuver Strategy for Station Keeping and Global Mapping Around an Asteroid.
-Hovering and Translational Motions Over Small Bodies.

-Interplaneatry Missions.

-New Trajectory Options for Ballistic Mercury Orbiter Mission.
-Sun-Mars Libration Points and Mars Mission Simulations.
-Trajectory Design and Mission Analysis of Fast, Outer Solar System Travel.
-Optimal Out-of-the-Ecliptic Trajectories for Space-borne Observatories.

-Satellite Clusters and Formation Flying.

-The Dynamics of Relative Satellite Motion.
-Solar Radiation Pressure and Satellite Formation Flight: Analytical Results.
-Ground Tracking and Control of GEO Cluster Satellites Using the Raven Telescope.
-The State Transition Matrix of Relative Motion for the Perturbed Non-Circular Reference Orbit.

-Earth and Lunar Missions.

-High Power Rocket Demonstrator of a Reusable Glideback Booster.
-A Semi-Analytical Evaluation of Launcher Performances.
-Lessons Learned From NASDA's ETS-VII Satellite: Recovery From Anomalies and Necessity of Risk Management.
-Geostationary Positioning Phase From Super-Synchronous Transfer Orbit: Hispasat 1C Mission.
-WIND Lunar Backflip and Distant Prograde Orbit Implementation.
-SIRTF Trajectory Design and Optimization.

-Attitude Control and Determination 2.

-Attitude Control of a 3-Axis Stabilized Spacecraft With Solar Electric Propulsion During Orbital Maneuvers.
-Web-Based Tools Spacecraft Attitude Dynamics and Control Simulation.
-Robust Star Identification Technique for Use in Laser Pointing Determination of the ICESAT.
-CHAMP Attitude Dynamics.
-Inflight Estimation of the Cassini Spacecraft's Inertia Tensor.