ANDREAS VOLLENWEIDER
"KRYPTOS"
Sony Music / Columbia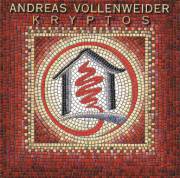 Excellent album this one by Andreas Vollenweider. The 12 compositions in it included have a great strength and an emotional beauty. The personal style of the artist takes us through a voyage to faraway lands, full of emotions and adventures. The music is bright, full of magic. The melodies and the rhythms incorporate elements of Pop, Celtic Music, Latin, Jazz, as well as medieval and symphonic traits. Although there are slow parts,a good deal of the music is rhythmic. A merry, festive air is present in most of the themes, although there are others with nostalgic passages.
P.JURADO
If you wish to purchase this recording you only have to click here.

Previous Page (Reviews)