THOMAS LOEFKE
"NORLAND WIND, HARP MUSIC FROM THE CELTIC NORTHWEST"
Celtic Heartbeat / Slow Motion Records / Atlantic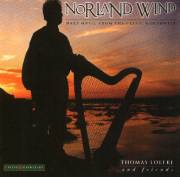 Thomas Loefke is the author of most of the compositions in this album. He also plays the Celtic harp, the main soloist instrument in this compact disc. The music is of a traditional Celtic style and inspiration. Most noteworthy are the romantic melodies, the ethereal, dreamy atmospheres, and, specially, the crystalline voices of Kerstin Blodig and Cristina Crawley. The rich roots of the Celtic folklore are masterly fused to the personal contributions by Loefke.
S.T.
If you wish to purchase this recording you only have to click here:


Previous Page (Reviews)